Being at a week-long event devoted to cocktails means a lot of drinking and nights that end well after the sun comes up. Even for bartenders used to hitting the hard stuff on a regular basis, Tales can be mighty taxing on the liver. I met up with "hangover coach" Kendra Strasburg of Crave Health this morning to get a few pointers on how to make it through this week feeling my best. Strasburg is a certified holistic practitioner with a focus on digestive health and a certified holistic health coach. She got into the health coach business after seeking nutritional guidance for her own busy lifestyle, which had her on planes every week and out entertaining 'til the wee hours. Strasburg now works with bartenders and others in the industry to help them bring balance to their lives. She had great insight that's not only useful to people here at Tales, but for anyone who finds themselves out a lot entertaining themselves or clients. Here, she shares her top five tips for making it through Tales of the Cocktail.
1) Bitters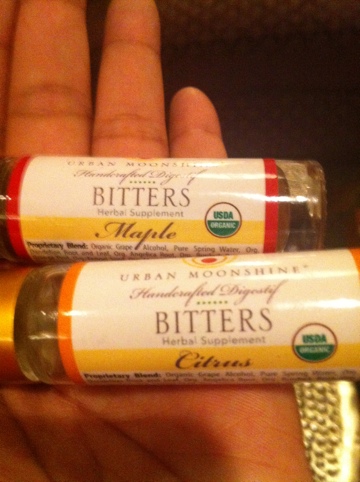 Bartenders value bitters mainly for their ability to subtly change the flavor and personality of a drink. What they may not know is that their original medicinal properties make them a bartenders' best friend when it comes to beating back that hangover. "With something like Tales or a night of debauchery, your body can't keep up with the free radicals," Strasburg says. "Bitters wrap around free radicals and escort them out of the body." Even when not drinking, Strasburg said taking just four drops of bitters 15 minutes before eating will aid in digestion. Any bitters will work, but Strasburg recommends
Urban Moonshine
's bitters, which come in three flavors and in portable mini spray bottles.
2) Milk Thistle
Milk thistle is an herbal supplement available at most health food/vitamin stores (New Orleans does have a Whole Foods if you want to pick some up). Strasburg says milk thistle strengthens the walls of the liver and works best when taken on a regular basis. However, she says people could still feel benefits this week if they take the supplement twice a day.
3) Lemon
Strasburg touts the power of the ordinary lemon as one of nature's best detoxifiers. Adding a wedge to your water every time you sit down at a restaurant or bar this week, especially first thing in the morning, will help your cleanse your system.
4) Beets / Dark Leafy Greens
While perhaps in short supply here in New Orleans, beets are a superstar at helping the liver. Strasburg says beets are the source of the highest amount of naturally occuring betaine, a liver-detoxifying nutrient. Beets are also a natural diuretic, so they've give you the added bonus of helping you, ahem, eliminate all that booze and fatty food you've been shoving down your gullet this week. Also helpful are dark leafy greens, which also help take the stress off the liver. Good luck finding those in NOLA.
5) Coconut water
Strasburg would reach for coconut water over Gatorade any day. "It has just one ingredient, and your body already knows what to do with it," she says. Coconut water is high in hydrating electrolytes as well as potassium. Drinking it before bed and when you wake up will help you avoid the hangover headache that usually results from dehydration. There you have it! I know I'll be stocking up on bitters and coconut water today to start prepping my body for Barroom Brawl, the Spirited Awards and Bartender's Breakfast this weekend. Want to get your own bitters? Strasburg was generous enough to share a discount for MOTB readers. Enter "loveyourbittersks" for 20% off at
Urban Moonshine
. The Boston Shaker will also be selling the bitters at his booth here at Tales this week. Strasburg will also be offering a virtual Tales Detox Program starting online next Wednesday and lasting for five days. She says, "Our repertoire will give your body a chance to renew and revive so you can imbibe again in the near future...After this, your liver won't even remember Tales. True story." The cost is $27. We're sold. For more details on the detox, visit
www.tinyurl.com/TalesDetox
. Tales attendees get 25% off. Contact me for the code. For more info or to contact Strasburg, visit
HangoverCoach.com
. What are your tried and true hangover prevention (or recovery) tips? Leave them in the comments or tweet me at @ECava with the hashtag #TOTC.
***
As always, please feel free to chat with me on
Twitter
, join our group on
Facebook
and keep up with new posts here by
subscribing
.
***