[caption id="attachment_575" align="aligncenter" width="640" caption="Dom Demarco, Di Fara Pizza. Photo credit: urbanblitz"]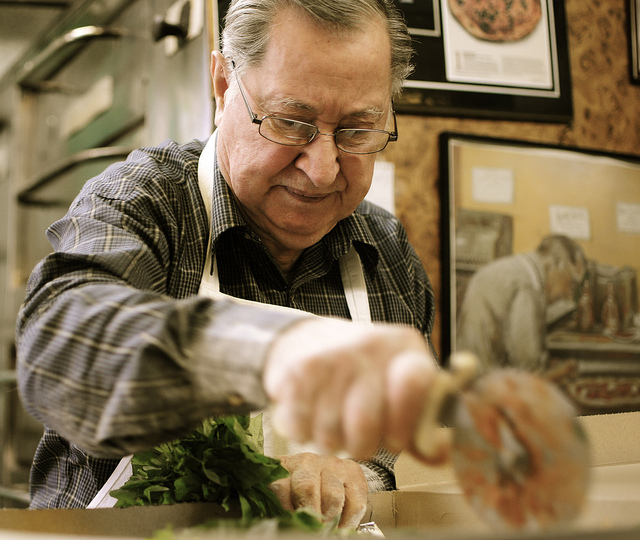 [/caption] I've visited two places in the past couple months that have secured a cult-like status as standbys of Italian food and culture in New York City. Since it's Italian week here, I wanted to share some pictures from my visits with you. Have you already been to these spots? Got other places you like better?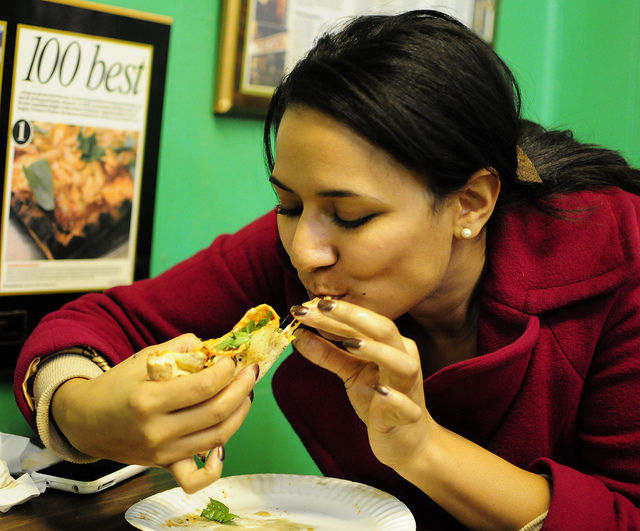 [/caption]
What:
This is some of the best pizza I've had in life, an opinion I share with thousands of other people. Read
Everything You Need To Know
about Di Fara according to the blogosphere's authority on all things pizza. And when you're done, watch this mini
documentary
featuring "The Godfather of Brooklyn Pizza." It's almost like being there.
Where:
Brooklyn's Midwood neighborhood, a mainly Jewish neighborhood between the very Italian neighborhood of Bay Ridge and Crown Heights (which you all know tons about now that you've been traveling that 'hood with me here for months).
Opened:
1964. Owner and pizzaiolo Dom Domenico turned 74 years old just a few days after my visit. That's 46 years of slinging pizza, by hand, almost every damn day.
Why Go?
Dom has been making each pizza by hand, by himself, since he was 28 years old. The pepperoni with garlic - just the memory of it still makes my mouth water. Five of his seven kids work with him, but none of them touch the pizzas. Speaking of touching the pizza, Dom grabs those bad boys out of the pizza oven with his bare hands. It is not an urban legend. I saw it happen. [caption id="" align="aligncenter" width="500" caption="Sausage slice, with lots of extra hots."]
[/caption] I don't think anything can replace the experience of eating food that has been lovingly made just for you by someone who wants to feed you. Much like my visits to
Brucie
, my two hours at Di Fara left me in awe of this man who is so passionate about making the perfect pizza that he insists on doing it all by himself using the ingredients he grew up with in Italy.
When I Visited:
The day after Thanksgiving, last month. Who does that? Who makes a pilgramage to eat Iconic Pizza the day after the biggest food day of the year? This bish, that's who. I was introduced to Di Fara by my friend Waisum, who went to high school near Di Fara and who also took a couple of the photos you see in this post. We met two of her friends, split the 3 bottles of red wine we brought (and shared some with Dom), kicked back and killed two pizzas in two hours.
Fun Fact:
This is pizza so good that Italians come from Italy just to eat it, and it the place even has its own
Wikipedia page
.
Eataly (Manhattan location) - New Italian Standby
[caption id="" align="aligncenter" width="500" caption="Exotic Mushrooms at Eataly "]
[/caption]
What: An emporium of Italian foodstuffs, including meats (including a tasty assortment of dried and cured meats), seafood, produce, pizza, pasta and cheese. And that's only the tip of the iceberg, as the place has a nice beer collection and adjacent wine shoppe. Yes, shoppe needed the "e" on the end, as that's what it feels like when you walk in. This place is like the Mall of America, but with food.
Where: Flatiron, conveniently (or inconveniently, if you ask my wallet) just a few blocks away from my office.
Opened: August 2010
Why Go? The pasta is gorgeous!
[caption id="" align="aligncenter" width="375" caption="Gorgeous ribbons of pasta."]
[/caption] Other than that, I'm not sure. They do have a ton of high-quality, hard to find Italian products under one roof and that's obviously a big draw. However, I'm spoiled because I live a long walk/short train ride away from
Paisano's
. Paisano's has cuts of quality meat and lovely fresh sausages, sauces, grains and more fresh and dried pasta than I'd ever know what to do with. So, I don't NEED Eataly. But the place is just so damn fun. I know a day is coming when I want to just pop in there after work for a can of good olive oil and instead come out with WTF WAS I THINKING SPENDING 70 DOLLARS ON WHITE TRUFFLE SHAVINGS? Mario Batali, I see you.
When I Visited: Opening weekend. MOB SCENE. Luckily, we were smart enough to go before 1 pm. By the time we left, a line snacked down the street outside for blocks.
Fun Fact: While the Flatiron warehouse-like retail market is the first in the States, Eataly NY is actually the ninth location worldwide. There are five locations in Italy (where the company was born in 2007) and another three locations in Japan.
If you haven't been to these spots or if you live outside of NYC, I'd also love to hear about your favorite places to grab a pizza or shop for specialty ingredients.
[caption id="" align="aligncenter" width="500" caption="Want"]
[/caption] Again, this week is just one of what I'm sure will be many Italian weeks on Mouth of the Border. As I mentioned on Tuesday, I get super nostalgic about missing my big Italian family when the holidays roll around. I also wanted to take a little break from West Indian food and culture. We'll be wrapping up our exploration of the Crown Heights neighborhood next week after more than a year of cooking and eating food from the Trini, Jamaican and other countries represented in that neighborhood. We'll go out with a bang on West Indian food with MOTB's first video cooking tutorial. It's gonna be THE BUSINESS. So come back next week for that.
Twitter
, join our group on
Facebook
and keep up with new posts here by
subscribing
.
***