[caption id="" align="aligncenter" width="500" caption="Crostini with homemade ricotta, three ways. Honey, radish, roasted red pepper."]
[/caption] Last week, I introduced you to
Rachael Mamane
. Mamane and I did the interview over brunch and talked business, the Brooklyn food community and also about what we were cooking up in our own kitchens. As I mused out loud about what to do with a half gallon of buttermilk leftover from Thanksgiving, Mamane rattled off a recipe for ricotta in just a couple of steps. And so, Italian week continues on MOTB. This is easy peasy to make, I promise and it will make you look like a rock star. Having never made my own cheese before, I wrote down these quick and easy steps from Mamane into a note on my iPhone and made it the next day.
Homemade Ricotta
Ingredients
2 c buttermilk 4 c reg milk 4 c cream Yields 4-5 cups [caption id="attachment_529" align="aligncenter" width="480" caption="What the beautiful ricotta looks like when you're done"]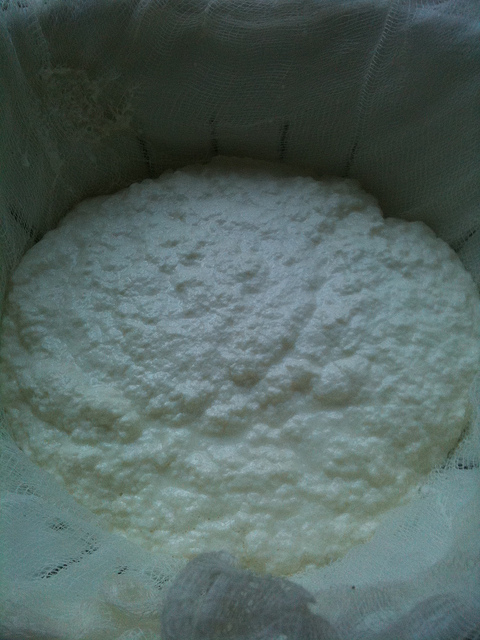 [/caption]
Special Equipment
Cheesecloth (Available at most grocery stores. Looks like
this
.)
Instructions
Combine all ingredients in pan and bring to low simmer for 15 min., being careful to stir the bottom with a rubber spatula so the milk doesn't burn.
Remove from heat and let sit for 10 minutes, undisturbed. Strain out the curds with a slotted spoon or fine-mesh sieve into cheesecloth. Rest cheesecloth in a colander over a bowl and drain curds 15-20 min. Save the leftover liquid (whey) for soups (butternut or chowder).
For even less moisture in the ricotta, suspend curds over a tall stockpot by tying cheesecloth to a spoon lying across top of pot. Let hang for up to another 30 min.
Put fresh ricotta into fridge or directly into your mouth. Keeps refrigerated about 4-6 days.
For more photos of each step, visit my Flickr photoset here.
Fun fact: As I child I didn't like ricotta, much to the chagrin of anyone making lasagna for me. I made lasagna with cottage cheese in place of the ricotta well into my 20s, and only recently really started to appreciate it.
Not ready to try making your own cheese? Pick up some of Brooklyn's semi-famous Salvatore Bklyn ricotta. I love picking it up when I stop by the Brooklyn Flea on the weekends, but now I won't have to!
***
I love sharing details about upcoming tasty trips and adventures, so you won't want to miss a bite. As always, please feel free to chat with me on
Twitter
, join our group on
Facebook
and keep up with new posts here by
subscribing
.
***