I just wanted to say Happy Holidays to all Mouth of the Border readers who celebrate this month! It's been a very special year, and it's been an absolute joy to share it with all of you. I'm holding off on posting my next cooking video. With so many folks traveling, I wanted to save it for when everyone's settled back in after the holidays. In the meantime, here is a picture from the walking tour I went on tonight.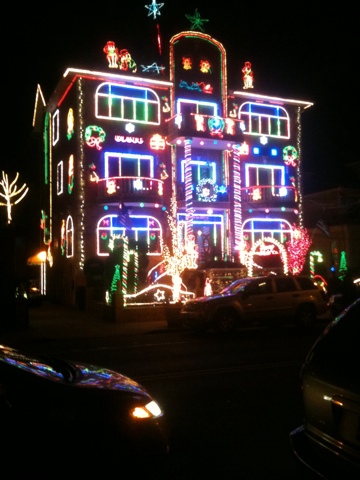 Myra Alperson has been leading Nosh Walks (http://www.noshwalks.com) for 10 years, leading people through NYC's ethnic neighborhoods and sharing about good eats. Tonight, she hosted me and 5 other folks for a tour of the awesome, outrageous holiday light displays on the houses of Dyker Heights, one of Brooklyn's Italian neighborhoods. I'll share more about the tour in a separate post. I celebrate Christmas, and wanted to say Merry Christmas this week to those who do the same.
***
I love sharing details about upcoming tasty trips and adventures, so you won't want to miss a bite. As always, please feel free to chat with me on
Twitter
, join our group on
Facebook
and keep up with new posts here by
subscribing
.
***