New York is on a nose-to-tail eating kick. But outside of bone marrow appetizers featured on the latest bistro and bar menus, we rarely address the bone. Where many home cooks in America shun bone-in cuts in favor of boneless, skinless white meat, other cultures around the world cherish the bone for what it provides during the cooking process - namely flavor and tenderness, as the bone helps to keep meats tender during slow cooking. Bones are also thrown in pots and simmered to create simple or deeply complex stocks, broths and sauces. Rachael Mamane, a new Brooklyn transplant, is using those bones and other raw materials from local farmers' sustainably raised animals for her new company,
Brooklyn Bouillon
. Brooklyn Bouillon partners with New York farms to create and deliver sustainably produced stocks and demi-glace to home cooks. Most farms don't have commercial kitchens or manpower to create these products, and creating them at home is a labor- and time-intensive process, so Mamane is providing local home cooks who care about food sources and sustainability with artisan quality ingredients they otherwise wouldn't have access to. [caption id="attachment_487" align="aligncenter" width="498" caption="Rachael Mamane. Photo by Jesaca Lin shared with permission."]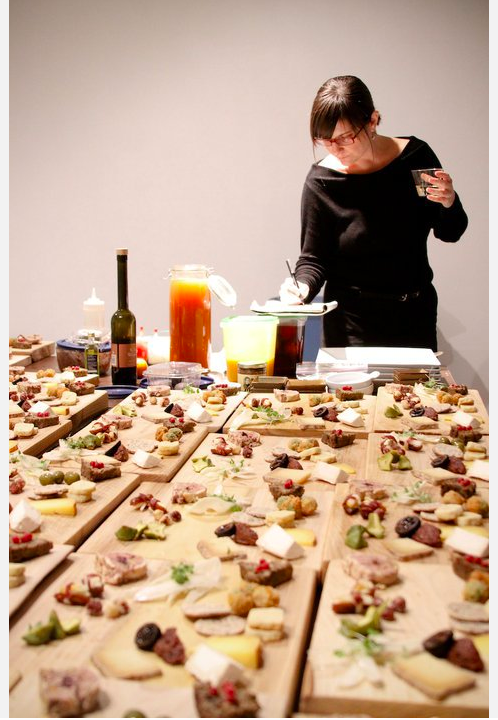 [/caption] A heart for good cooking has been a lifelong theme for Mamane. "My interest in cooking is born of heritage," she said. "I spent a good amount of my childhood visiting family abroad, and most of the activities on these trips were centered around food. "I often tell my Moroccan father that his Spanish mother lives on through me. Even though we never shared a language, her influential connection to the kitchen is clear: I have a near-unstoppable compulsion to feed people and have had to learn how to reign it in to fit the American palate over the years." Like many of us, Mamane stumbled into her life in food. Three hours after she quit her technology consulting job in Seattle, she got a phone call from a place who wanted to hire her as a pastry chef despite her lack of previous professional experience. When she "pulled up [to New York City] with dog and boyfriend" in the middle of June, the serendipity continued. She was talking to Hudson Valley Duck Farm at a farmer's market and asked if they were hiring. The General Manager's wife asked her if she wanted to work the farmer's markets for them, which is how she came to be "selling duck by the side of the road," as she now jokes. The relationship grew to the point where Mamane now executes HVDF's social media activities and represents their products at industry events. The idea for Brooklyn Bouillon came about organically. While working the farmer's markets for HVDF, customers would frequently ask Mamane if the farm sold duck stock. Mamane started to get familiar with the challenges farmers faced in using leftover materials after their animals were processed. Since most of them send their animals elsewhere to be butchered and they didn't have a place on their farm to store byproducts, they didn't have a viable way of producing additional products based on what's left afterwards. Of her business, Mamane says, "The stock company is a great way to add value to local farms while educating the curious consumer about what's going on in upstate ag-land." One of the biggest challenges for Mamane right now in starting a food-focused business is finding a sustainable kitchen model. Slow-simmering stocks turn into demi-glaces by being reduced over the course of four days. Most incubator or shared commercial kitchens in New York City rent their space by the hour. The final thing Mamane needs in order to get her business off the ground (which she hopes to do between now and June 2011) is investors. One thing she's considering in her search for financial backing is that she's not producing a product with the intention of distributing it nationally. Many investors want to support products that can grow to be distributed on a national scale. Mamane wants to roll out the model for her business nationally, but as for her actual products, they will only be available regionally. She has tentative partnerships in motion with Greene Grape Provisions and The General Greene restaurant, both in the Fort Greene neighborhood in Brooklyn. You'll also be able to find Brooklyn Bouillon at outlets in markets where the farmers attend, such as the Grazin' Angus Acres stand at Union Square Greenmarket. Mamane will have a profit-sharing agreement with many of them so that they also benefit from the end use of their animals' products. Having the farmers sell the products provides another touch point for customers in terms of being able to talk to the people who grew and raised the food they're consuming. The goals behind her products is to support local, sustainable farmers and to produce a product that doesn't contain MSG, grain, gluten or added salt. These products aren't created to travel far and last indefinitely. Regarding her regional distribution model, Mamane said, "That restricts me. And I'm ok with that." Mamane is providing samples of her products to potential investors, retailers and customers later this month. If you're interested in receiving some yummy, generously-sized samples, email Mamane at
Rachael at BrooklynBouillon dot com
.
More on Brooklyn Bouillon:
Brooklyn Bouillon on Facebook
Mamane's inaugural super club event:
Bonhomie Supper Club
Fun Fact about Mamane:
Project Parlor, a Brooklyn bar that knows of her affiliation with HVDF, recently named a cocktail after her for their winter menu. "The Duchess" features duck fat-washed rye whiskey which Mamane herself provides for the bar. It's mixed with with a muddle of Salerno, lingonberry jam and lemon juice and served up in a chilled martini glass. It was created by mixologist Demetrious O'Neill.
***
As always, please feel free to share with me on
Twitter
, join our group on
Facebook
and keep up with new posts here by
subscribing
***