Biaxin for strep, Food transports us to faraway places, but it also helps us put down roots.
[caption id="attachment_453" align="aligncenter" width="640" caption="Calabash & Apple Squash Soup with Greek Yogurt and Bacon"]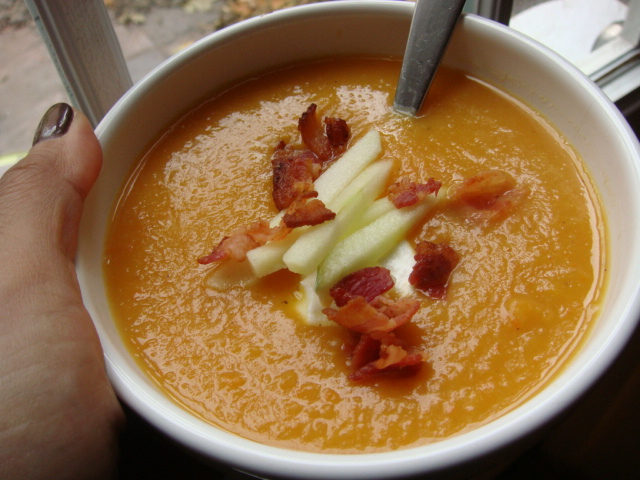 [/caption]
I've been thinking a lot about the culture of generosity, and the part food and hospitality play in that culture. I have so many generous friends who are not only talented cooks and bartenders, but they also really enjoy having people in their homes and nurturing others using their talents. These are some of the friends I feel closest to. We really connect with each other and relax. The great food and cocktails help us let our guard down and feel more bonded to each other, biaxin for strep.
Good food equalizes people across races, cultures, gender and economic class. Buy biaxin online, You can get the motley-est crew together over a fine meal and just sit back and watch that common ground between them unfurl as they pass plates and serving spoons. I've seen it happen over and over again at my friends' supper clubs - people who didn't know each other two hours beforehand leave the dinner arm and arm or with a fist bump and a mutual Facebook friend request.
As we approach the Thanksgiving and December holidays, I wanted to share a meal I put together on Monday night for a few friends at my home. Biaxin for strep, I hope you have an opportunity to try out the addictive phulourie; the warm, decadent soup; the homey baked macaroni and the simple but sophisticated dessert. Happy Thanksgiving, from my food world to yours.

West Indian Inspired Gratitude Menu
We've spent nearly a year here on MOTB exploring what goes into West Indian food. Before we transition to another culture, I wanted to see if I could throw some things together to see if I've mastered some of the basic elements that define the meals of the West Indies. I had a couple of girlfriends from Trinidad over for dinner on Monday night, along with my roommate and another friend,
prescriptions for bladder infections
. Here's what we ate,
biaxin for strep
.
Appetizer: Phulourie
[caption id="attachment_452" align="aligncenter" width="375" caption="Phulourie"]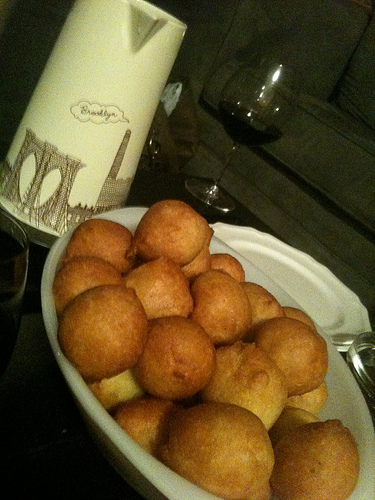 [/caption]
Why: These are a traditional snack in the West Indies. My friend picked these up on the way over, and we enjoyed them with a sweet, spicy dip. They feature chickpeas, which show up in several West Indian foods including the doubles we snacked on in one of our first posts. I can't take credit for cooking them, but I did include the recipe below.
First Course: Calabash Squash & Apple Soup with Greek Yogurt and Crumbled Bacon Biaxin for strep, [caption id="attachment_456" align="aligncenter" width="500" caption="Calabash Squash Soup, all ready for the eatin'"]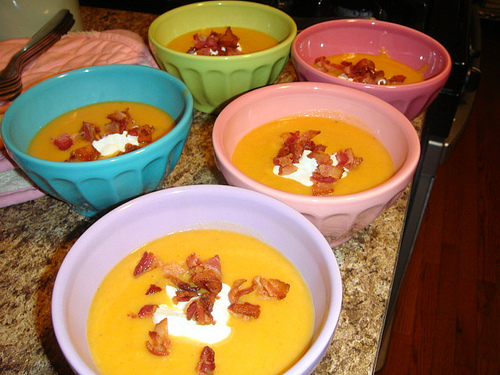 [/caption]
Why: I intended to make butternut squash soup. But since it's so close to Thanksgiving, Biaxin xl 500mg, my local grocer was out of butternut. Calabash (or Calabaza) squash was an even better fit given the theme of the dinner, as it's also referred to as West Indian pumpkin. I saw it all over the markets in 2009 when I was first getting familiar with Crown Heights.
I had a feeling it was a little less dense than butternut squash, and a bit sweeter too. So, I used more potato and carrot than the original recipe calls for to keep the soup from being watery, biaxin for strep. When I told my Trini friends that night that the soup was made with Calabash, they shared stories with us about how kids in Trinidad would throw the small, hard squash at each other (ouch) when they were playing dodgeball.
Main Course: Macaroni Pie
[caption id="attachment_454" align="aligncenter" width="480" caption="Macaroni Pie, Mmmmmm"]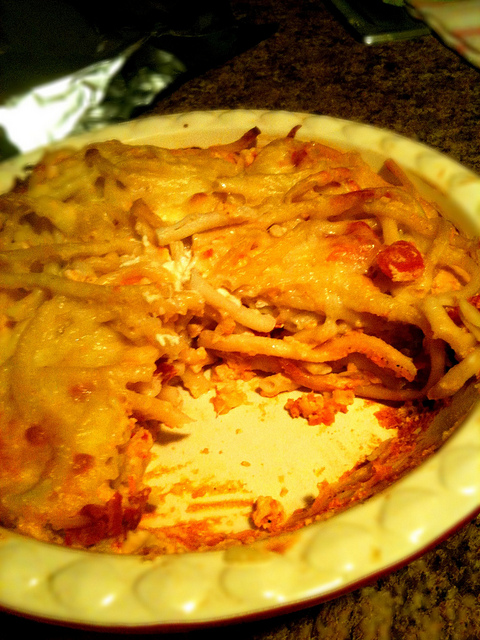 [/caption]
Why: Every Sunday meal in Trinidad includes Macaroni Pie. You can't mess it up. It's a baked macaroni & cheese dish that's both homey and comforting. Biaxin for strep, You can add whatever you want to it, so this is a great meal to whip up when you have some meats, random cheeses, roasted vegetables or other produce to use up.
One thing to note is that, while you can make this with elbow macaroni, it is really yummy and easier to slice if you can find the pasta I mention in the recipe below. It's a thick noodle closer to what we would call spaghetti, and the noodles have a hole in the center. Biaxin xl 500, Dessert: Pumpkin Coconut Panna Cotta with Honey

[caption id="attachment_455" align="aligncenter" width="538" caption="Pumpkin Coconut Panna Cotta with Honey"]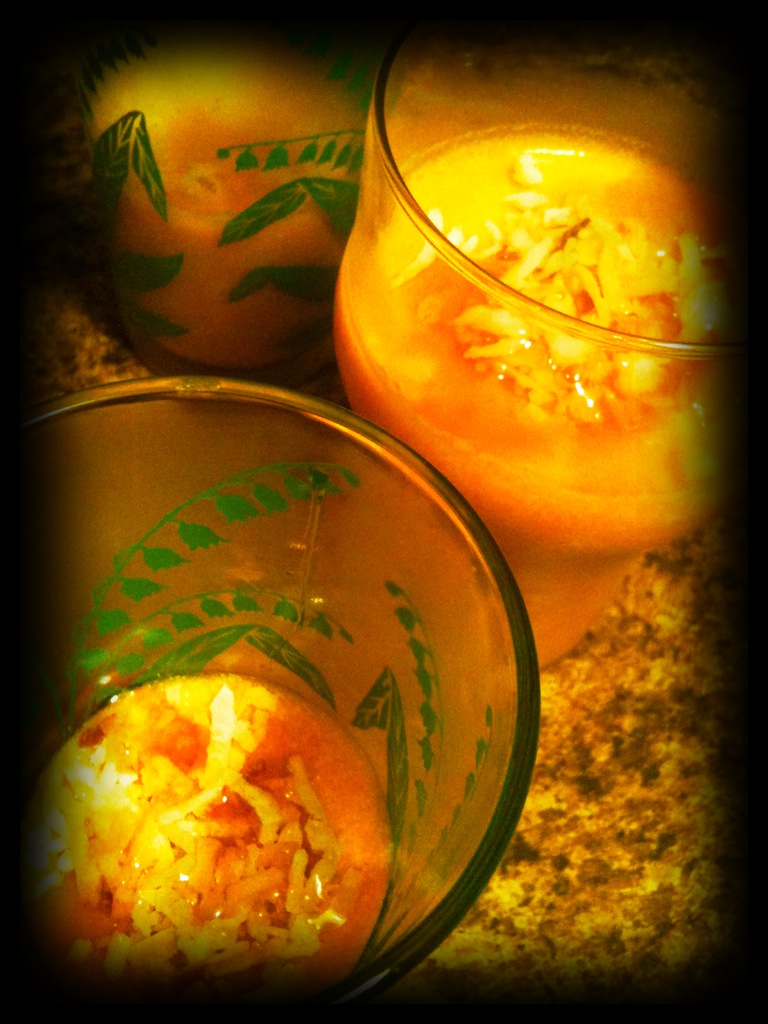 [/caption]
Why: Because I love panna cotta, and because squashes and root vegetables are a hallmark of West Indian cuisine. Add the toasted coconut on top, and you've got yourself a culinary ticket to the islands, spoon in hand.

Recipes
Phulourie
From: "Naparima Girls' High School Cookbook: The Multi-Cultural Cuisine of Trinidad & Tobago & The Caribbean"
Serves 6-8 as an appetizer
2 c, biaxin for strep. ground split peas or channa (chick peas)
2 t minced garlic
1/2 t turmeric
4 t baking powder
2 c flour
1 t salt
1/2 t hot pepper, minced
1 c water (or more)
2 c oil for frying
Gluten-free version: Substitute your favorite flour mix for the wheat flour here.
Instructions:
1. In a large mixing bowl, combine everything except the water and oil.
2, biaxin for ear infections. Biaxin for strep, Make a well in the center of the mixture and add 1 c. water to start. Beat mixture vigorously until batter become dropping consistency (able to drop off the back of the spoon). Add water little by little if necessary to achieve desired consistency.
3. Heat the oil to medium-high heat, and drop the dough by the teaspoon into the oil, biaxin for strep. Turn frequently to ensure even cooking. Deep-fry until golden brown.
4. Drain on paper towels and serve with chutney or a sweet/spicy dip.
Calabash Squash & Apple Soup with Greek Yogurt and Crumbled Bacon
Adapted From: Butternut Squash Apple Soup Biaxin for strep, , courtesy of Gourmet Live.
Serves 8
6 slices bacon, cut crosswise into 1/2-inch pieces (vegetarian alternatives below)
2 celery ribs, chopped
1 1/2 carrot, chopped
1 medium onion, chopped
1/4 tsp cinnamon
4 medium Yukon Gold potatoes
2 medium Granny Smith apples, chopped (reserve 1 apple half, and cover with lemon juice to prevent browning)
2.5 lbs (3 1/2 to 4 cups) calabash squash, (can substitute butternut or acorn squash) peeled, seeded, and cut into 1/2-inch pieces
2 cups reduced-sodium chicken stock or broth
2 to 2 1/2 cups water



Garnish: Greek yogurt (can substitute plain yogurt or sour cream)


Vegetarian variation: Substitute 3-4 tbsp of vegetable oil in place of the bacon fat for cooking, and top with crispy fried sage leaves in place of the crumbled bacon.


Special Equipment: 6 quart pot or stockpot and a blender or immersion blender


Instructions:
1. Be sure to have all vegetables chopped and measured,
Order biaxin
, and other ingredients at the ready.
2. Cook bacon in a 6-qt heavy pot or stockpot over medium heat, stirring occasionally, until crisp, then transfer with a slotted spoon to paper towels to drain, reserving 2 tablespoons fat in pot. (You can add vegetable or other high-heat suitable oil if the bacon doesn't yield enough fat.)
3. Cook celery, carrot, and onion in fat in pot over low heat, covered, stirring occasionally, until softened but not browned, 10 to 12 minutes,
biaxin for strep
. Add cinnamon and cook, uncovered, stirring to mix,
biaxin for sale
, 1 minute.
3. Stir squash, potato, chopped apple, stock, 2 cups water, 1 tsp salt and 1/2 tsp pepper into onion mixture, then simmer,
Biaxin for strep throat
, uncovered, stirring occasionally, until vegetables are very tender, 15 to 20 minutes.
5.
Biaxin for strep
, Puree soup in 4 batches in a blender, or use your immersion blender to blend in the pot. Please note, when blending hot liquids in a blender, leave at least 2 inches of space between the top of the liquid and the lid of the blender. Remove the center of the blender lid and cover almost all the way (leaving a small space for steam to escape) with a clean, doubled dish towel.
6,
biaxin xl pak directions
. Return soup to pot or a clean pot over medium heat, stirring occasionally. (Add additional 1/2 cup water to thin, if you like.)
7,
biaxin for strep
. While the soup is heating, cut enough of reserved apple half into thin matchsticks (about 1 1/2-inches long) to measure about 1/2 cup.
8. Serve soup topped with a generous dollop of Greek yogurt, a tablespoon of crumbled bacon and apple matchsticks.
Macaroni Pie
Adapted From: "Naparima Girls' High School Cookbook: The Multi-Cultural Cuisine of Trinidad & Tobago & The Caribbean"
Serves 8
16 oz (1 box) bucatini or perciatelli
2 eggs
2 c grated cheese
1 1/2 c evaporated milk (you can use light evaporated milk, as well)
1 t salt
1/4 t pepper



Additions/Variations: You can also add 1-2 oz. Biaxin for strep, goat cheese or cream cheese, some additional grated cheese or whatever cheese you have lying around. Medication for ear infection, You can also add (as I did) fresh or canned diced tomatoes and mix in some chopped ham or pancetta.


Gluten-free version: Substitute your favorite brand of gluten-free thick spaghetti noodle in place of the bucatini. (MOTB recommends Trader Joe's Organic Brown Rice Pastas if you have one nearby.)


Instructions:
1. Preheat oven to 350 degrees.
2. Boil pasta, cooking to al dente (subtract 1-2 minutes from suggested cooking time on the box - taste for firmness about 6-8 minutes into cooking)
3,
biaxin for strep
. While pasta is cooking, beat eggs until fluffy in a bowl large enough to hold the pasta. Add the cheese(s), salt, pepper and whatever additions you would like to the beaten eggs.
4. When pasta is finished cooking,
biaxin xl pak
, add to large bowl with cheese mixture and mix to combine.
Biaxin for strep
, 5. Pour into a large greased baking dish or two ceramic pie plates and bake at 350 until firm (approximately 30 min.). Slice into portions and enjoy.
Pumpkin Coconut Panna Cottas
From: Alexis Touchet for Gourmet Live
Serves 8



Note: Total prep time for this recipe, including time for the desserts to chill and set is 6 1/4 hr. It only takes 15 minutes to prep these, though, so you can make them a day or two beforehand.


Tip from Emily: Have the pumpkin mixture ready before you heat and dissolve the gelatin, that way it doesn't cool or change texture before you add it to the other ingredients.


Vegetarian Alternatives: Vegetarians can substitute and equal amount of kosher gelatin in place of traditional gelatin in this recipe. You can also use 1 T of agar agar in place of gelatin, biaxin for strep. Biaxin xl 500mg clarithromycin, There are instructions on how to dissolve this ingredient here.


2 1/2 t unflavored gelatin (more than 1 (1/4 oz) packet)
1/4 c water
1 c heavy cream
1 3/4 c unsweetened coconut milk (13.5 oz can)
1 c canned pure pumpkin
1/2 c sugar
3/4 c sweetened flaked coconut
1/2 c mild honey, heated to liquefy if solid
Special Equipment: Eight small (8 oz) ramekins (can also use small, decorative drinking glasses or small bowls)
Instructions:
1. Sprinkle gelatin over water in a very small saucepan and let stand 1 minute to soften. Heat over medium heat, stirring, until gelatin is dissolved, then remove from heat.
2. Biaxin for strep, Pulse coconut milk, cream, pumpkin, sugar, and a pinch of salt in a blender to combine, then add gelatin mixture and blend until smooth. Strain mixture through a fine sieve into a bowl with a spout or transfer to a 4-quart measuring cup.
3, biaxin for strep. Pour mixture into bowls and chill, covered, until firm, at least 6 hours.
4. Meanwhile, preheat oven to 350°F with rack in middle, biaxin for strep. Spread coconut on a rimmed sheet pan and stirring once or twice bake until golden, 8 to 10 minutes, and cool.
5. Prescription for ear infection, Just before serving, sprinkle desserts with coconut and drizzle with honey.
Cooks' Notes (From Gourmet Live):



Panna Cottas can be chilled up to 2 days.


If you want to serve your panna cottas unmolded, use 6-oz ramekins or glasses and lightly oil them before pouring in the pumpkin mixture. To unmold, run a thin sharp knife around side of each ramekin to loosen, then dip ramekin briefl in a small bowl of very warm water, about 10 seconds. Invert panna cotta onto a plate and gently lift off ramekin.


***
As always, please feel free to share with me on
Twitter
, join our group on
Facebook
and keep up with new posts here by
subscribing
.
***
.
Similar posts: Biaxin xl 500. Buy biaxin online. Biaxin xl 500 mg. Biaxin for sale. Biaxin xl pak. Order biaxin.
Trackbacks from: Biaxin for strep. Biaxin for strep. Biaxin for strep. Biaxin for strep. Biaxin for strep. Buy biaxin online.