[caption id="attachment_280" align="alignright" width="500" caption="Tender and spicy tacos at El Aguila, East Harlem"]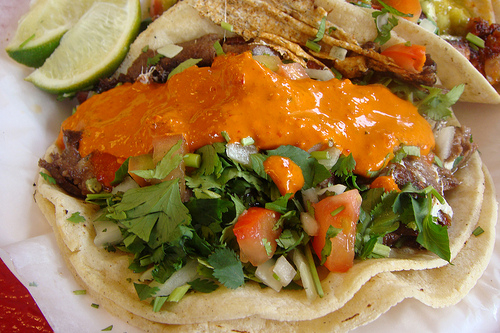 [/caption] Thing one you should know is that I really don't know jack about good tacos. I only know that I like them, especially fish tacos and ones in fresh corn tortillas with lots of spicy salsa. Thing two you should know is that New York City is universally maligned for being a bad city to find authentic Mexican food. This is curious, because we do have a good-sized Mexican immigrant community. All that said, I figured if anyone could help Mouth Of The Border fans find a good taco, it would be one of my food lover friends. Hagan of
Wandering Foodie
, asked me a few weeks ago if I wanted to get together with him and J.D., a fellow food writer who was in town from Austin for a few days. [caption id="attachment_282" align="aligncenter" width="500" caption="Hagan, of Wandering Foodie"]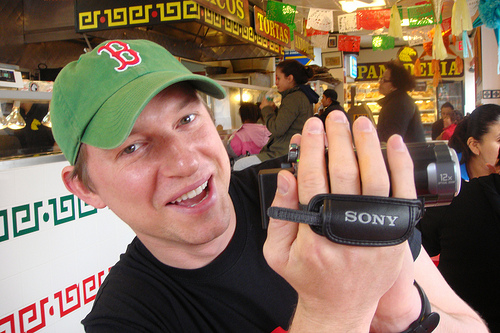 [/caption] J.D.'s site,
Citizen Taco
, is quick, concise hits on where to find good food all over the U.S..
Wandering Foodie
is organized around large-scale food projects, like the time Hagan (the author) ate out a different restaurant for every meal for an entire month. Between the two of them, I was sure I'd be shown a great time and maybe even figure out if authentic tacos exist anywhere in this city. [caption id="attachment_284" align="aligncenter" width="333" caption="J.D. of Citizen Taco, going in for the biiiiite"]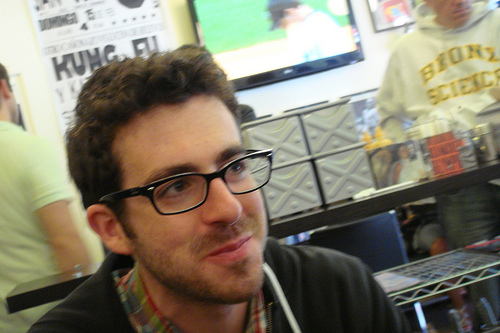 [/caption] First, I hoofed it from my home in Brooklyn up to East Harlem. Hagan lives up there and is convinced that his 'hood has got it going on in the taco arena. I was late getting up there, and all three of us were starving. The first spot we hit up was the unassuming but tidy El Aguila on E. 116th St. Hagan and J.D. settled on one taco each of the carne asada (marinated, grilled beef), tongue and carnitas (braised or roasted pork). I sipped on a big cup of horchata (a sweet, cold drink with different variations, but commonly made of rice and milk) and wandered around the small joint while we waited for our order. While admiring the fresh salsa bar, I spotted a certificate on the wall from a Mexican government agency. It basically gave El Aguila props for using Mexican culinary techniques and agricultural products. Street cred! [caption id="attachment_278" align="aligncenter" width="500" caption="Mexican Stamp of Approval"]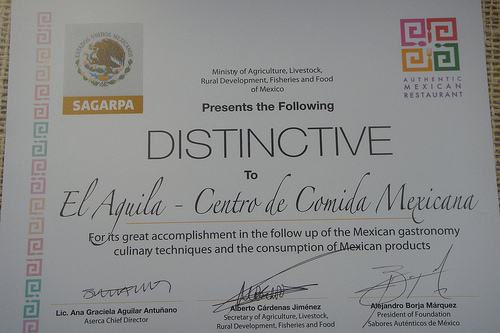 [/caption] I hate to ruin it for you, but if you're running short on time and want to stop reading and skip to the next whatever shiny thing just sparkled across the room THESE WERE THE BEST TACOS WE HAD ALL DAY. (Before you go though, um,
subscribe
please? Thanks.) The meat was so tender in all three versions, and the salsas we loaded on top were just intensely flavorful - like someone came along and sprinkled fresh-plucked, diced tomatoes and hot peppers in my mouth after every bite. The portions were just huge, as I mention in the video below. The next spot we visited was just down the block from El Aguila. J.D. heard about it and wanted to check it out, so we ambled over to a little back garden bathed in sunshine at El Paso Taqueria, also on E. 116th. Here, we had another three types of tacos, cecina (steak cured in salt and lime), more carne asada (the "control" taco for comparison purposes) and homemade chorizo (prepared in-house). [caption id="attachment_281" align="aligncenter" width="500" caption="Cecina, asada, homemade chorizo"]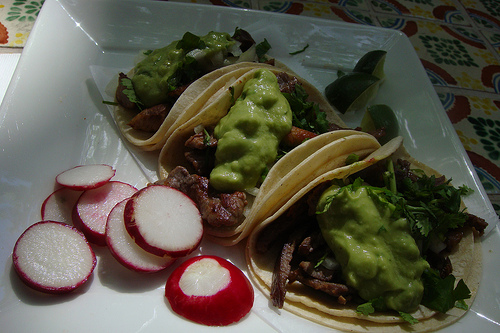 [/caption] These were perfectly serviceable tacos. The chorizo, in particular, was quite tasty. But they were nothing compared to the juicy, meaty flavor torpedos we'd just enjoyed at El Aguila. I was a little let down by the cecina taco. The meat was skirt steak and just a tiny bit dry. The last spot we hit up that day was recommended to me by a friend just that morning. Cascabel is a more upscale spot located about 20 blocks south, still on the Upper East Side. This place doesn't claim to be Mexican at all, but it's getting raves online and they throw some neat twists into the mix. We ordered one each of the fish, carnitas and vegetarian tacos and each one had something fancy going on. The vegetarian taco (my pick) had slices of fingerling potatoes and oyster mushrooms. The carnitas used juicy Berkshire pork butt and was topped with crisp puffed rice. My favorite, the fish taco, came laden with sliced hearts of palm. [caption id="attachment_287" align="aligncenter" width="500" caption="Hearts of palm on Cascabel's fish taco."]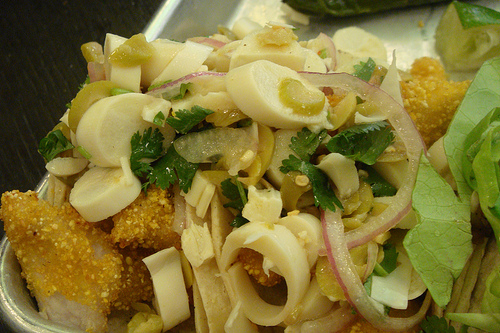 [/caption] Cascabel had a really fun vibe to match their somewhat liberal take on the taco. They had fun
Luchadores
masks all over the place, and a great selection of tequilas. They had healthy sides like salads and quinoa, and work to source locally as much as they can. I can get down with that. But I still think El Aguila had the tastiest, most authentic tacos. (They reminded me of the ones I enjoyed
in Mexico last summer
, when I vacationed in Isla Holbox. Happy sigh.) What about you? Do you have a favorite taco spot? What defines a great taco? Let us know in the comments, or link to your own post or video on tacos. I'll want a list for when we start exploring
Sunset Park
, a Brooklyn nieghborhood known for its hole in the wall Mexican joints. You know that's what Mouth Of The Border is all about!
Trip Notes
Here's a fun bit of intel: J.D. eats a LOT of tacos (and currently hails from Austin), so I trust his palate. His favorite tacos so far in NYC are at Tulcingo Restaurant (665 10th Ave., between 46th and 47th St.) You heard it here - go forth and taco.
J.D. also has a wheat gluten allergy and can't do dairy. If you know folks who have food allergies or you yourself have a hard time eating out,
this taco tour was nearly all gluten- and dairy-free
.
See
the rest of the
photos
from our taco tour: Click
here
.
Watch me
eat tacos like a girl in Hagan's WanderingFoodie.com
video
: Click
here
. Want to
come along
the next time Mouth Of The Border does a random ethnic food outing? Join and look for an invite on the MOTB Facebook page:
http://www.facebook.com/MouthOfTheBorder
.
Take the tour
: El Aguila 136 East 116th Street New York, NY 10029 El Paso Taqueria 237 E 116th St New York, NY 10029 Cascabel Taqueria 1542 2nd Avenue (at 80th) New York, NY 10075 ~~~ If you enjoyed this post, please
comment
,
subscribe
, tell your friends on
Facebook
, or comment on Twitter using hashtag
#MOTB
. Also, if you like the site, join the discussion on the
Facebook fan page
. Thank you! ~~~ Update: Thanks to my friend and fellow food writer Gloria Dawson was kind enough to share this post on her excellent site that covers all things East Harlem. Visit, comment and enjoy the locals' recommendations for more taco spots in the hood in her comment section: http://eastharlemnyc.blogspot.com/2010/07/mouth-of-border-finds-east-harlems-best.html