Hello, readers. I thought things would ease up since returning home from Austin, but it's been a month now since South by Southwest, and it has not. Just when my personal life quiets down, work heats up and vice versa. Who needs balance, anyway? [caption id="attachment_246" align="aligncenter" width="480" caption="My purchases at the market today: Beets and dandelion greens."]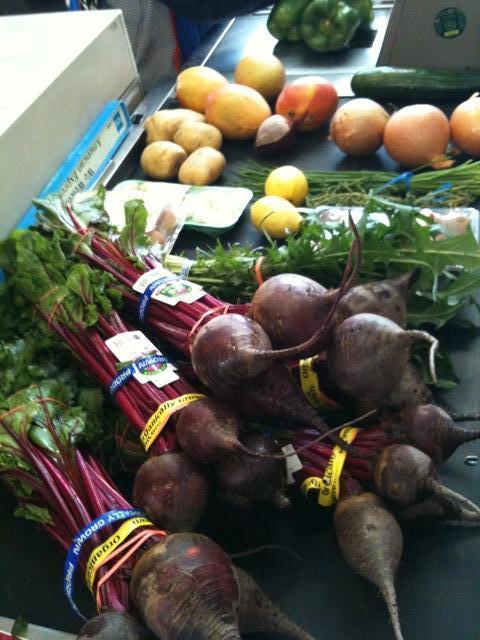 [/caption] I've been trying to frame the best way to share with you about the different food markets I've visited in Crown Heights and started to visit in Brighton Beach. I started thinking about what I've learned so far just from making a few West Indian-based recipes. One thing that has always fascinated me about a lot of ethnic food cultures (and specifically Southern cuisine, where the states are concerned) is how they incorporate the value of thrift. Slave culture in this country led to a lot of amazing food that doesn't always get its due for the original ingenuity involved in coming up with dishes that many of us still eat today. Slaves got the scraps from the cuts of meat that went to their masters, and they made great things with it. Ham hocks and pig ears got thrown into huge pots of collard greens, turning a bitter plant into something salty, delicious and comforting. [caption id="attachment_247" align="aligncenter" width="375" caption="Sauteeing beet and dandelion greens"]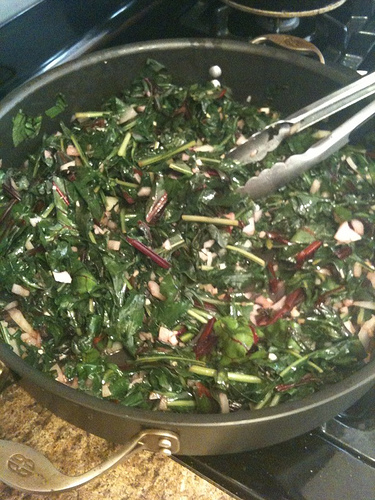 [/caption] Something I've noticed a great deal over the past few months of exploring West Indian cuisines and Russian food is that many dishes and recipes endeavor to use all parts of a plant or animal, or to incorporate what would have been scraps from another meal. It's a thread that runs from recipe to recipe, and it's significant enough for me to feel comfortable saying that creative thrift is a defining attribute of West Indian food culture. I tried to keep that creative thrift in mind at the market today when I was deciding what to eat for the week. I threw together a dish. I created something original based on today's "scraps," and am happy to share it with you. This is not a West Indian recipe, so you'll have to forgive me veering off the path to share this. I had five bunches of beet greens left over from roasting beets for a gorgeous soup with creme fraiche and chives from my friends' cookbook,
The Gilded Fork: Entertaining at Home
. Knowing ahead of time that I'd have those greens left over, I decided to add stuffed peppers to the list of meals I'd make for the week. Another recipe I planned to make called for arugula and couscous, but I substituted dandelion greens (also peppery, like arugula) and quinoa (similar shape to couscous, but a lot more to offer nutritionally, since it's a whole grain). If I sauteed the beet greens and dandelions with some onion and garlic, and mixed it with half the quinoa I had to cook up, that it would make a great stuffing for the peppers. Passing the ethnic sauces, I grabbed a can of Indian-spiced chickpea and potatoes. I figured I'd throw this in to make the whole thing hold together. I also had half a can of diced tomatoes remaining after making a fish recipe, so these too went into the stuffing for the peppers. The peppers essentially served as a little composting bin of deliciousness, taking in any leftover food items my other recipes cast off. Please improvise when you make this dish. Use red bell peppers if you like them more than green ones, and stuff them with a grain or pasta (quinoa here), a leafy veggie (greens in this case) and a protein (chickpeas in this one). Traditional stuffed pepper recipes include binders like cheese, breadcrumbs and eggs, but there are none of those here, making this gluten-free and also safe for those with dairy or egg allergies. I want to encourage you to think of ways this week that you can use more of what's already in your fridge and cupboards to create other meals.
Thrifty Stuffed Peppers
[caption id="attachment_248" align="aligncenter" width="375" caption="Peppers, stuffed."]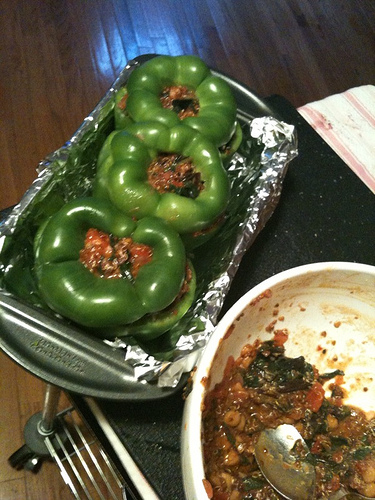 [/caption] Ingredients (Serves 6 as a side dish): 3 large bell peppers (red or green probably work best with this recipe's flavors) 1 onion 4 cloves garlic 2 bunches beet greens (remember, this is what I had on hand. Beet greens are rather bitter, so you can sub in leftover spinach or any other greens you prefer) 1 bunches dandelion greens 1/2 box red quinoa (8 oz.) 2 c. vegetable broth 1 can (14 oz.) diced red tomatoes, preferably San Marzone or Cento Olive oil Salt and pepper to taste Optional: 1 can chickpea and potato curry (can also be labeled "chole," - review the label if you want this to remain safe for those with food allergies) Instructions: 1. Preheat the oven to 350 degrees. Cook the quinoa as directed, but use the vegetable broth in place of water. Once cooked through, remove from heat but keep covered and warm. 2. Remove the tops and seed the bell peppers. Cut away as little of the pepper's top as possible, since you want lots of room to stuff. 3. Dice the onion and garlic. Throw together in a small bowl. 3. Wash the beet greens thoroughly, and then wash the dandelion greens. Coarsely chop all of the greens. 4. Meanwhile, heat the largest frying or saute pan you have and add 2-3 tbsp. of olive oil. Add the garlic and onions. Stir them around gently until the onion softens. Throw the greens in on top of the garlic/onion mix. 5. Saute the mix until the greens have just started to soften and wilt. Remove from heat. Add the diced tomatoes, along with their juices. 6. Combine the quinoa and greens mixture together and stir until well-mixed. Add the can of chickpea/potato curry. 7. Taste for flavor. Add additional salt and pepper to taste. 8. Stuff the peppers with the quinoa mixture, and place upright in a pan with walls, whether it be a loaf pan, casserole dish or what have you. 9. Bake at 350 degrees, checking on them after 45 minutes. and remove from oven if done. If they aren't done after 45 minutes, just keep checking on them every 10 minutes. You will know they're done when the flesh of the pepper gives under your finger when you push it. 10. Enjoy! See, you were thrifty in just 10 steps and it was absolutely delicious, wasn't it? [caption id="attachment_249" align="aligncenter" width="600" caption="Dinner tonight. Stuffed pepper on top."]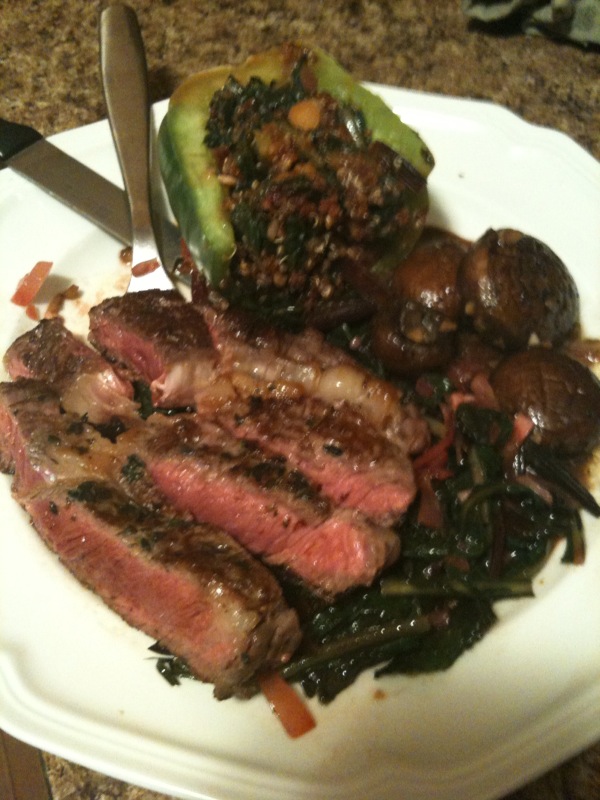 [/caption]