Welcome back! I hope you're having a peaceful and productive week. Not everyone is as lucky as we are to be here, reading about great food experiences and goofing around on the Internet. I mentioned a few months ago that one of the next communities we'll visit on Mouth Of The Border is the Haitian community, which makes up a big square of the quilt that is life and culture in Brooklyn. Many friends and neighbors here have friends and family in Haiti, which has been absolutely devastated by the recent earthquake. Please consider getting out into the Haitian community this weekend, saying hello and supporting their businesses. Not in New York City? Here are links to some legitimate ways to donate earthquake relief for Haiti:
http://www.google.com/relief/haitiearthquake/
[caption id="attachment_204" align="aligncenter" width="500" caption="Credit: Cresny (via Flickr)"]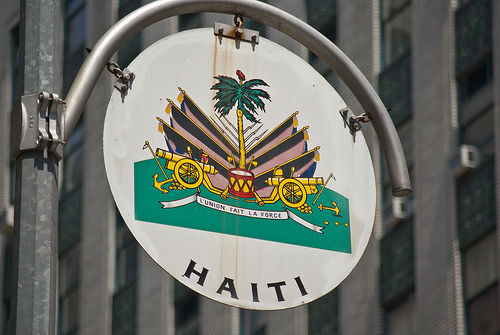 [/caption] If you're new to Mouth Of The Border, you can read about our first visit to the West Indies via the Brooklyn neighborhood of Crown Heights here:
http://bit.ly/MOTBWI1
Our second visit, involving even more delicious vittles, is here:
http://bit.ly/MOTBWI2
If you're already a fan of West Indian culture and food, please comment on and add spots to a map of the Mouth of the Border places, and see what other places I'm writing about by clicking the map (click through to view the map if you're viewing this in a reader).
Click here to see Mouth of the Border places
. Today's post concludes my second trip to the neighborhood with details on the final three spots I visited. Below, I've included contact information for each eatery and the nearest subway stop. Peppa's Jerk Chicken (Jamaican) 347 712 9341‎ 738 Flatbush Avenue between Woodruff and Parkside Avenues (2/5 at Winthrop or Q Parkside Avenue) Errol's Bakery and Catering (Jamaican) 718 469 6078 661 Flatbush Avenue at Hawthorne Street (Q at Parkside Avenue) Ali's Roti Shop (Trinidadian) 718 462 1730 589 Flatbush Avenue between Midwood Street and Rutland Road (B/Q at Prospect Park or Q Parkside Ave.) [caption id="attachment_191" align="aligncenter" width="500" caption="Jerk Chicken, De Bamboo Express Restaurant & Bakery, Crown Heights, Brooklyn"]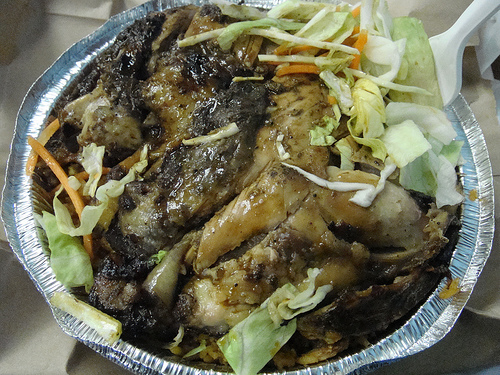 [/caption] Over the last few posts, we've tried cassava pone, doubles, callaloo, mauby and sorrel. We've even gotten down and dirty with some cow foot soup. The one thing we haven't done is gone to a true Jamaican jerk chicken joint. Jerk spice rub is a backbone of Jamaican cuisine, and is one aspect of the island's culture that is well known even to people outside of it. I tried some of the jerk chicken at the very first place we dropped in on back during my first visit to Crown Heights, but what I really wanted was to do was find one of those down home, hole in the wall joints with the big steel drums out front, just smoking away with spice and meat. I took it down a notch and checked out Peppa's Jerk Chicken, a place with huge grills behind the counter. When I walked in, the men manning those grills were wielding cleavers almost the length of their forearms, hacking away at whole birds while the chickens got nice and charred on the racks. If you'll recall from part 2, I had already done quite a bit of eating on this trip. Everything I ordered from here on out was to go. I ate the food later at home. After being ignored by the men behind the grills for awhile, I ordered a half chicken and some rice and peas for takeout. There are people that build traditions and whole careers around jerk spice rubs and methods. That said, I realize I only have your attention here for so long (thank you). So, here's a good summary of the history and what goes into
Jamaican jerk spice
. What makes Jamaican jerk rub a killer are dried Scotch Bonnet peppers. If you are not a fan of spicy food or just have no tolerance for it, just skip this stuff entirely. You cannot handle it. I remember the very first time I ever ate jerk. Late night street vendors in Chicago (where I lived while I was in graduate school in 2000) doled out the hot stuff with impunity to intoxicated barhoppers all along the Gold Coast neighborhood where I lived. My friend and classmate John, who had lived all over the world already writing guidebooks for
Lonely Planet
, insisted on scooping up some food for us everytime we hit up the reggae clubs. He was an unassuming, short, redheaded guy but dude knew what was up with some food. On this night, we had hopped on a train after John hit up one of the food carts. He was shoveling jerk goat into his mouth. His eyes were watering from the spice hitting his nasal passages. His nose was running. But he was grinning like a maniac. So, I dug into my takeout container, keeping an eye on John all the while. Sure enough, within minutes, my tongue was on fire, my nose was running and I could feel that my whole face was flush from the spices. It. Was. Awesome. Jerk done properly is a gift to those that subscribe to the school of Hotter is Better. That's the day I knew I loved jerk spice rub and the day I fell in love with goat meat. The chicken from Peppa's was delicious. It's hard for me to get excited about any kind of chicken, but that's all they cook. So, if you go there just order up and enjoy it. Next, I swung over to Errol's Bakery and Catering, another Jamaican spot. As with the other bakeries I visited in Crown Heights, the line was ridiculously long. I took a quick look around for something unfamiliar to take home and eat. My eyes landed on a slice of pie that was almost black. It was actually a potato pie. Not a sweet potato pie, but a potato pie. There might have been much more to the pie than that - it could have been a mixture of a few different root vegetables. But it was too busy to ask the people working there what went into it. [caption id="attachment_189" align="aligncenter" width="500" caption="Potato Pie, Errol's Bakery, Crown Heights"]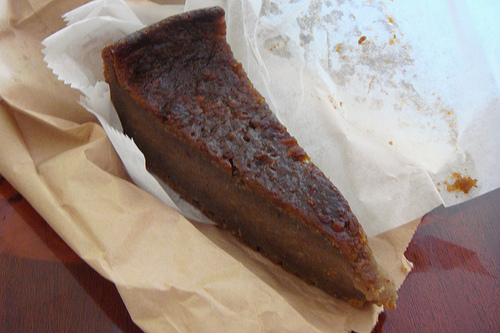 [/caption] I knew from sniffing it that it was a sweet pie, not savory. When I got it home and took my first bite, I was surprised by its concentrated sweetness. It tasted like a cross between sweet potato pie and molasses. The crust was also dense, chewy and delicious. This is just one of probably thousands of examples on neighborhood menus of the creative ways that West Indian folks use root vegetables. All sorts of tubers make their way to the table for every type of meal. To finish up my trip, I needed to stop into one more roti stop. (We talked about roti in detail in the last post here
http://bit.ly/MOTBWI2
) It wouldn't be fair with so many options for roti shops to only experience one of them. Since I had just had my first roti at Trinidad Roti Shop earlier this same day, I needed at least one baseline for comparison. [caption id="attachment_188" align="aligncenter" width="435" caption="Goat Roti, Ali's Roti Shop, Crown Heights"]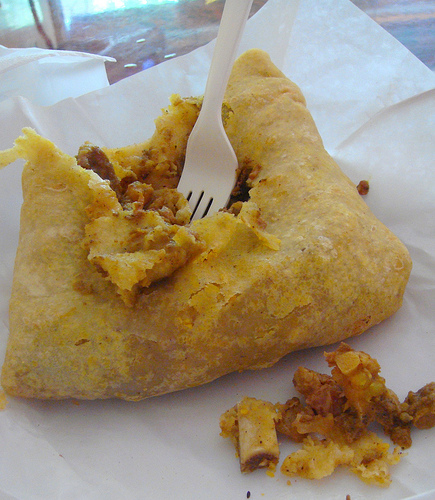 [/caption] So, I went visited Ali's Roti Shop and got a goat roti. Ali's came recommended by both my roommate and a friend of mine. Both ladies are from Trinidad, so I had faith in their suggestions. While I had eaten jerk goat several times and loved it, I'd never had curried goat before. That would be another mouth adventure. I only got a few steps away from the shop when I realized the sauce would soak through the roti bread if I tried to get it all the way home. I went back to the shop, sat, and went at it with a fork and knife for a couple of bites so I could taste the bread and filling. As you can see from the picture above, the meat in the goat roti comes with the bones. I have since spoken to a few people about my roti adventures and some of my friends told me they won't order goat roti because they don't want to bother with eating around or picking out the bones. I can understand that, but I do think that you'd be missing out on some truly flavorful meat if you didn't at least try it. Goat is incomparable to chicken, beef or any meat I can think of. It just has a full, unabashedly meaty personality and it tastes well-seasoned even with nothing on it. My local grocery store carries goat in the meat section. I'm definitely going to bring some home and try my hand at cooking it up for a future post. Overall, this was a delicious set of trips into the neighborhood to get to know more about the dishes, spices, produce and meat that are common across West Indian cuisine. Armed with the knowledge we got through eating our way around the local haunts, we can regroup for the next post to explore some of the neighborhood's grocers and produce markets. We'll learn more about the raw ingredients that go into the food, and then we'll start cooking with someone who knows West Indian food inside and out! Excited to continue our adventures. See you soon! ~~~ If you enjoyed this post, please
comment
,
subscribe
, tell your friends on
Facebook
, or comment on Twitter using hashtag
#MOTB
. Also, if you like the site, join the discussion on the
Facebook fan page
. Thank you! ~~~