Hi. I'm Emily. I have the WORST sense of direction in the world. I could get lost even if you put me in a clear Zip-lock bag. When I first moved here, the subway system was a little overwhelming because it's so extensive with the number of lines and stops. I tried to figure out the best way to remember the city's subway lines and neighborhoods, and decided that a good way to remember the different subway lines was to figure out what ethnic neighborhoods were nearby and then find out what those neighborhoods cook and eat. [caption id="attachment_107" align="aligncenter" width="500" caption="Balls of breaded, fried cassava."]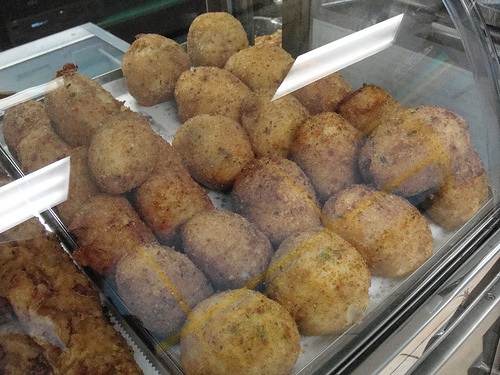 [/caption] The reason associating food with a location works for me is because memories of meals are some of the strongest, most detailed memories I have. I can't tell you much of anything about my time living in D.C. in 2001, but I could easily find my way back to the steakhouse there where I had one of the best steaks I've ever eaten (
Les Halles
, if you're curious). So, I figured if I could develop a good sense of NYC's neighborhoods and their foods, I would always be able be able to remember what neighborhood each subway lines goes through, and would always be able to find my way back. It makes sense for me to start exploring the in my home base of Brooklyn. One major subway line I'm not that familiar with is the 2/3 line, or the red line if you're looking at a transit map. The red line travels through three of the city's five boroughs, stretching from the Bronx in the north all the way down the west side of Manhattan and through the center of Brooklyn looping over to end near JFK Airport. To get familiar with just a slice of that line, I decided to start my adventures in the Crown Heights neighborhood of Brooklyn and extending a few streets out. The area is home to one of the larger West Indian communities in New York City. I'll talk more about the neighborhood and its cultures in an upcoming post, but for now you should know that the West Indies encompasses hundreds of islands in the area between Florida and Venezuela, including Antigua, Grenada, Jamaica, Trinidad and Tobago and many, many others. I lived in Aruba in 2001, but living there taught me about just a tiny slice of West Indian food, meaning I have a lot to learn. So, the best way for me to start getting a sense of the community's food was to get out and eat at a bunch of it's restaurants. This is part one of several in recapping those restaurant visits. Here's where I went on my first trip to the neighborhood, along with the relevant contact info and nearest subway stop. De Bamboo Express Restaurant & Bakery (General West Indian) "West Indian Style Chinese Food" 718 469 0117 or 718 469 0118 772 Flatbush Ave. between Lenox & Clarkson (2/5 at Sterling) Culpepper's (Bajan) "Best of Barbados restaurants and caterers" 718 940 4122 1082 Nostrand Ave. at Lincoln Rd. (2/5 at Sterling) Allan's Bakery 718 774 7892 1109 Nostrand Ave. between Maple & Midwood (2/5 at Winthrop or Sterling) Gloria's (General West Indian) 718 493 2183 1148 Nostrand Avenue between Midwood and Rutland (2/5 at Winthrop or Sterling) De Island (Grenadian) 718 415 6811 1199 Nostrand Ave. between Fenimore and Hawthorne (2/5 at Sterling) You can comment on and add spots to a map of the Mouth of the Border places, and see what other places I'm writing about by clicking the map below (click through to view the map if you're viewing this in a reader). View
Mouth of the Border places
in a larger map
First stop: De Bamboo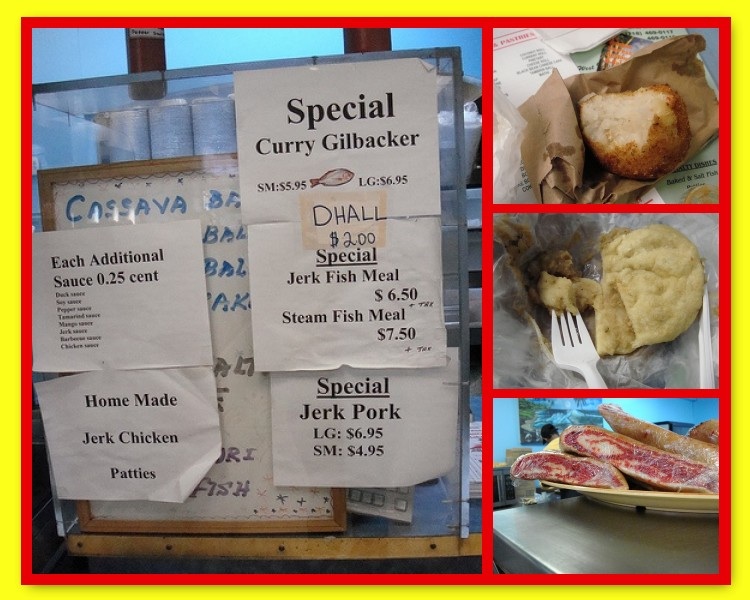 1.
Daily Specials at De Bamboo Express
2.
Cassava ball at De Bamboo Express
3.
Doubles!
4.
Currant slice at De Bamboo Express
What I ate: Jerk chicken & fried rice Cassava ball Doubles Jerk chicken is the ubiquitous dish of the West Indies. The West Indian territory that's probably most familiar to Americans is Jamaica, and when people think of Jamaica, many of them think of jerk chicken and reggae. The jerk chicken here wasn't anything mind-blowing, but it's hard to blow my mind with chicken ANYTHING. The fried rice wasn't anything crazy, but the tamarind sauce that came with it was something special. I made the mistake of being too hungry when I set out to explore this day. I ate at least half the dish of chicken and the entire cassava roll. Doubles (and it's always "doubles" - one cannot order "a double") is street food. Most countries have a unique street food culture (as evidenced on
this blog
), and the West Indies are no different. When I was rattling off my list of recommended foods to try on this trip and said "doubles," my Trinidadian roommate's face lit up and her voice went up an octave. "Doubles?! You have to have them from a street vendor. They are supposed to be freshly fried. If you get them in a restaurant, they're not fresh." So it was. They are meant to be served fresh and hot. Here at De Bamboo, the filling (see the comments below for a recipe) in my first-ever doubles was great, but the bread was just doughy. I reserve my judgment on whether I like doubles until I've had a proper one.
The cassava ball was delicious. Cassava is a root vegetable. The cassava ball had a texture similar to mashed potato, but a bit grainier on the teeth. The inside of the ball had bits of green onion in it. It was breaded and fried. So, I left here remembering I like tamarind, doubles show promise and need to be revisited, and cassava = good.
Second stop: Flatbush Caton Market (not a restaurant) I have something scribbled here in my notes that just says "2 markets crazy lady special sauce." It took me a minute to remember what that meant, but it came to me. There's a large vendor's market called the Flatbush Caton Market located at 814 Flatbush Ave. It's a covered market, run by NYC's Caribbean American Chamber of Commerce, hosting dozens of stalls representing different products and services. There are stalls that do braiding and hair weaves, different food vendors and specialty spice sellers, as well as vendors selling trinkets and souvenirs from the various West Indian countries. I went in, bought a cold bottle of Ting (see photo below), and wandered around the stalls. I stopped at one because the woman had a variety of flours, legumes and spices for sale. I was asking her what the various bags contained, and one of her customers stopped me and told me about an over-the-counter treatment for a problem that's not safe for a family friendly website such as this one. Suffice it to say that if you're a woman who has had many children and feel like your equipment just isn't the way it used to be, there are certain vendors in the Caton market that may have something for you. [caption id="attachment_101" align="aligncenter" width="500" caption="Caton Market on Flatbush Ave."]
[/caption]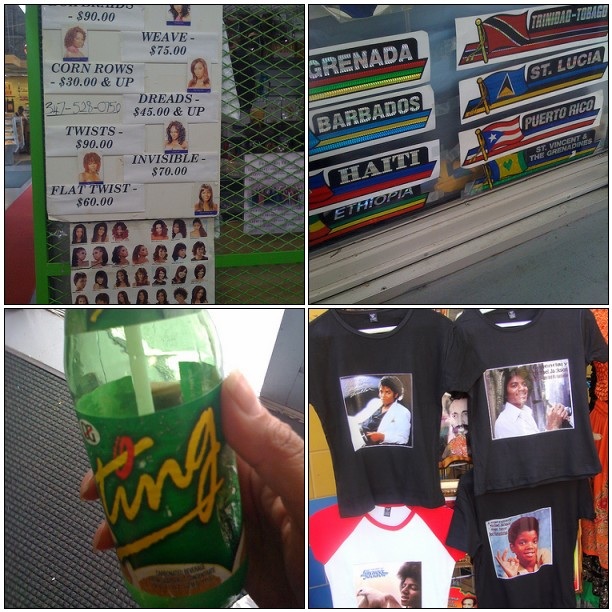 1.Braid & Weave stall at the Caton Market, 2. National Pride of the West Indies, 3. Ting, a soft drink from Jamaican made with grapefruit juice, similar in taste to Fresca, 4. Michael Jackson memorial shirts, set outside the market the weekend after Jackson's passing.
Third stop: De Island
After wandering around Caton Market, I made my way to De Island. De Island wasn't on my list of recommended places, most likely because I was getting restaurant and food suggestions from people from Trinidad. I did my own research on the neighborhood, though, and found an article on De Island in the New York Times from a few years ago. You can read that article
here
. What I ate: Macaroni pie Potato salad Green salad They were out of everything else! I went back later that week. The owner, Charles Terry, was very cordial and showed me around the back of the restaurant, which not only has a dining room for the patrons, but also has a separate gathering room. Terry is very involved in representing and educating community members from Grenada and often hosts meetings to discuss the politics of the island and other important issues. He spent some time showing me photos of past Prime Ministers of his country. He apologized for being out of most of the traditional dishes, but explained there was some sort of sporting match that had kept him busy most of the day. Which brings up another important thing to emphasize. This restaurants in the area are super informal. There's very little in the way of seating. There are menus written in chalk on a board with dishes that change daily, but that don't offer explanations of what each dish is. Not a whole lot of tourists wander through the area, as the neighborhood is rather rough around the edges and has a reputation (at least locally) of being at times unsafe. The restaurants aren't aimed at those unfamiliar to the national dishes that make up the cuisine - they cater to the locals. For the purposes of this website, that is exactly what we want. When I saw "macaroni pie" on the menu at De Island, I was expecting something different and unique. But in this case, it was exactly what it sounded like: a macaroni and cheese casserole sliced and plopped on my plate, next to a nicely composed, but entirely pedestrian green salad and tomato, along with a spoonful of potato salad. After the assault on my senses of all the different sights, sounds and smells of the neighborhood, having some very familiar food was a nice break before I dove back into the weirdness of eating the unfamiliar. As it turns out, macaroni pie is a traditional Sunday dinner dish that families across the West Indies enjoy when they gather with their families. My roommate and I were talking about what they do for Sunday lunch at her home in Trinidad, and macaroni pie is always on the table. It was pretty funny - my expectations walking in to De Island. It would be like someone foreign coming to the States and saying to themselves, "I can't wait to try ketchup. I bet this ketchup stuff is going to be AWESOME." Click on the link below to view a slideshow of photos from De Island.
Fourth stop: Gloria's
Next, it was off to Gloria's, a West Indian restaurant that serves dishes common to many of the islands.
Here, I made sure to sample a few things that were totally foreign to me (to make up for getting a pass on the macaroni pie and potato salad at De Island). What I ate and drank: Cowfoot soup (sometimes called cow heel soup) Callalou Mauby Click on the link below to view a slideshow of photos from Gloria's. I had to try the cowfoot soup. I didn't do it because it was something I wanted to eat. I'm an adventurous eater, but I'm not the type of person who's crazy about eating sweetbreads, headcheese and the like. However, cultures often have an aspect of them that highlights how people have to make do for whatever reason. Some of our dishes in the South, like chitlins, came from African-American slaves taking what was left over from the meat that went to their masters, and making it work. So, the cowfoot soup is the type of dish that makes use of animal parts left over that many of us wouldn't think to cook with or eat. I wanted to see what it was like. The base of the soup was delicious. It was a little starchy, like chicken stock mixed with potato chowder. Then there were little dumplings bobbing around. I didn't ask what they were made of, but they tasted like they were either plain flour dumplings or cassava. The star of the soup was, naturally, a couple of cow foot bones bobbing there in the hot soup. There were bits of beef dangling from the bones. I tried a eat a little piece of the meat, but it looked and felt undercooked. I'm sure it was fine and cooked properly. I just couldn't bring myself to enjoy it. Oh, well. At least I tried. I wouldn't mind trying to make the base of the soup, and then taking the bones out and putting in some vegetables. Next, I tried some callalou. There is some confusion over what the term "callaloo" or "calalloo" refers to, as the dish is made with a different leafy vegetable and prepared differently depending on what island you're on. The Trinidadian version is like creamed spinach, and is made with the leaves of the root vegetable taro. You can buy the root vegetable itself in many West Indian markets. It's usually labeled "dasheen." But if you're from Jamaica, callaloo is made with amaranth leaves and is more like a soup in consistency. This dish was delicious. However, it was even richer than it looked. I thought I got a small side of it, but they had a thimble-sized side I could have ordered. After I tasted it, I could see why people would order such a small quantity of it. It's difficult to describe the flavor. It doesn't taste like spinach, which is probably the closest recognizable cousin to this food for most of my readers. It's a deeper, earthier flavor and a bit bitter, which is why so many preparations of it call for adding coconut milk, butter and other creamy ingredients. I could only eat a few spoonfuls of it before I gave up. Then a few gulps of mauby, a traditional soda-type drink, was last. It was a big ol' styrofoam cup of one of the West Indies' several types of brewed/steeped drinks made by steeping or soaking leaves, bark and herbs in hot water and then sweetening them up. My roommate said she used to frequently make her own mauby or sorrel (another brewed drink) at home in Trinidad. My conversations and research to date indicate that drinks like mauby are a lot like sun tea. I grew up in Florida, and any of you who live down south know that sun tea is brewed out in the sun, preferably on a large, friendly back porch and then brought in and sweetened to taste. Mauby, sorrel and other drinks like them are often naturally bitter. Each person who makes their own has the benefit of leaving it bitter or sweetening it to taste. My cup of it was sour and sharp, and since I ordered it at a fast-food style restaurant, it was probably made from concentrate instead of brewed and steeped from scratch. I don't want to say for sure because I didn't ask, but it tasted like it came from a bottled concentrate, which you can also buy in almost every West Indian market in the area.
Last stop: Culpepper's
Last was a quick visit to Culpepper's, a Bajan restaurant (meaning from Barbados). The owner here is Winston Lewis, and he was just delighted that his place had been recommended to me by a bunch of people from Trinidad. I have to do some digging to see what the relationship is between the two islands.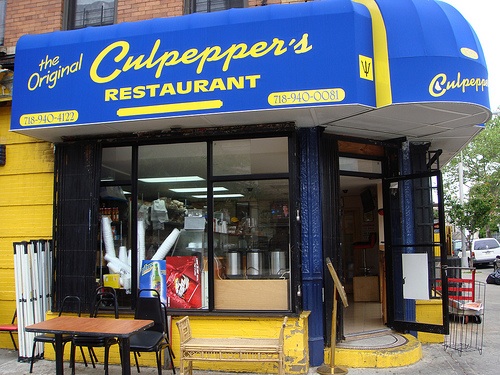 His place is really also a home for people of the Bajan culture, like De Island is for people of Grenada. You can see signs with information on how to cheaply mail packages to Barbados and pick up literature and newsletters on what's going on with the local Bajan community.
Lewis told me his goal is to just make sure that every Bajan who walks through his door feels like they're at home, and when they eat the food, that it reminds them of the food they eat in Barbados. By the end of the day, I was stuffed from nibbling and tasting all day, so all I had the energy for there was a currant slice. I brought it home, cut it in half and shared it with my roommate. I've never had any traditional West Indian baked goodies, so I had nothing to compare it to, but it was delicious. Sticky currant fruit jam rolled up into flaky, multi-layered pastry. My mouth waters just thinking about it. I did swing by one last spot named Allan's bakery at end of my visit, but at about 4 p.m. on a Sunday, this well-regarded local spot was mobbed. It was too packed for me to really get close to the case of breads, cakes, rolls and pastries, but it looked like everyone else standing in line knew everything was good. That was it for the restaurants on this visit. I tasted so many new things in the space of just a few hours. I feel so lucky to live in this great city and to be able to share it with all of you. Coming up next, we have more restaurant posts, as well as some history and background on West Indian culture and the Crown Heights neighborhood. ~~~ If you enjoyed this post please comment,
subscribe
, tell your friends on
Facebook
, or comment on Twitter using hashtag
#MOTB
. Thank you! ~~~ Resources and Fun Links For this Post (These will eventually be moved to a permanent "Resources" tab on the top of this website): Ting Soda http://en.wikipedia.org/wiki/Ting_(soft_drink) http://www.tingsoda.com/tinginformation.html Flatbush Caton Market http://www.flatbushcatonmarket.com/ De Island (Restaurant, Grenadian) http://travel.nytimes.com/2008/08/24/travel/24weekend.html Politics of Grenada http://en.wikipedia.org/wiki/Politics_of_Grenada